Covid Task Force Update - February 14

COVID Task Force Update & Resources (February 2021)
Testing
The rapid test is not the antibody test. Rapid testing measures antigents and can determine if someone currently has the virus. The Rapid testing is most accurate with the first 5 days of covid symptoms (most common symptoms are: fever, loss of taste or smell, dry cough, shortness of breath or diarrhea). A positive rapid test is accurate but there are about 25% false negatives.
2-day, PCR COVID test – it is much more sensitive. If your rapid test is negative you should get the 2-day PCR COVID Test. While waiting for the PCR test you should quarantine.
The blood/antibody tests tells you if you have had COVID in the past. It takes a month to develop antibodies. If you are positive with an antibody test, you likely are not still infected with the virus.
Testing sites: https://dph.georgia.gov/covidtesting
Vaccines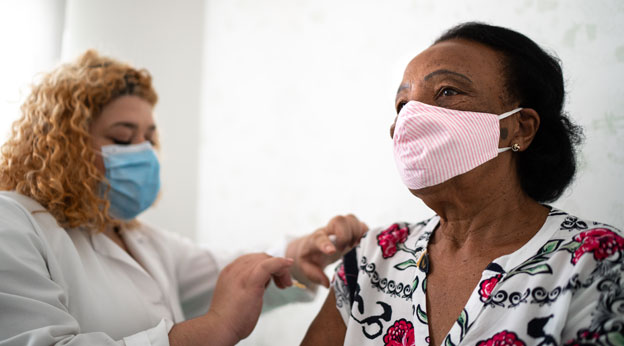 Vaccines are available now for front line workers, nursing home residents, and people older than 65 years old. The types of vaccines available include:

Moderna (2 shots 28 days apart/94% effective)
Pfizer vaccines (2 shots 21 days apart/95% effective).

Vaccination will provide about 40% effectiveness 2 weeks after 1st shot. Protection rises to peak effectiveness 2 weeks after 2nd shot.
Check with your County Health Department or your local doctor for more information about the vaccines available and their distribution.
Information about vaccine safety: https://www.cdc.gov/coronavirus/2019-ncov/vaccines/facts.html
Locations of vaccine sites: https://dph.georgia.gov/covid-vaccine
COVID-19 Symptoms can be confusing.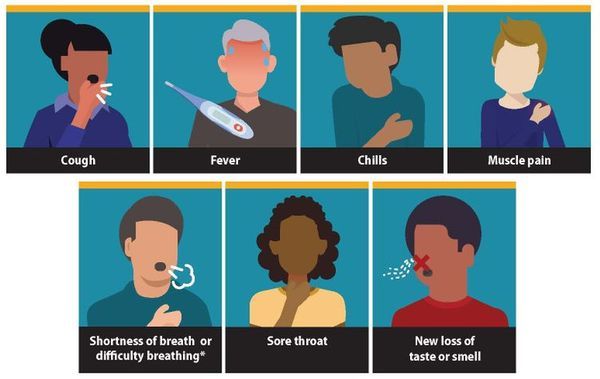 Do I have allergies, a cold, influenza or the corona virus?
Information about how to tell the difference: https://www.mayoclinic.org/diseases-conditions/coronavirus/in-depth/covid-19-cold-flu-and-allergies-differences/art-20503981
Prevention
Prevent the spread of COVID-19 by continuing with hand washing, social distancing, and masks over the next several months since there is a lag period after vaccination.
Transmission to other people may still occur after vaccination despite lack of illness.
Completed the vaccination series will offer you protection, but you can still get the virus and give it to others, therefore still practice masking, hand washing, distancing and avoiding large groups.
Excellent source of information about prevention: https://www.cdc.gov/coronavirus/2019-ncov/communication/toolkits/general-public.html
Herd Immunity
Return to normal activities will require herd immunity where 85% of the population have been either been infected or received the vaccine. This may not occur until late Summer or early Fall 2021. We should all remember to protect our family and friends until then. We should all decide that the COVID epidemic "Should End with Me".
We are so blessed to have a family in Christ!
Despite the challenges of living in the Roman Empire, our brothers and sisters we have an amazing family - Acts 2:42-47.
Even though we cannot meet together as we would like, we can encourage one another…daily… Hebrews 3:12-13.
There are over 100 one-another verses in the scriptures that we can continue to fulfill despite the pandemic.
Wonderful infographic about one-another verses: https://overviewbible.com/one-another-infographic/
Emotional support should be provided to family and friends as COVID infections surge over the next 1-2 months and we all feel the burden of the stress and isolation it causes. Please stay connected to family and friends especially Singles during this difficult period.
Church services
Church services will remain virtual until mid-February and we will notify you about any changes then.
Thanks for all your patience. We would all love to meet together as soon as it is safe. We love our brothers and sisters and miss all of you and we can't wait to see you.
February 4th Update
In Person Sunday Services and Covid Task Force Update
The North River Covid-19 Task Force would like to express its appreciation for the faith and perseverance of each of you during these trying times. The cumulative isolation, insufficient human contact, cabin fever, Covid symptoms for some, zooming all too frequently, and not being able to meet together, can lead to fatigue and frustration. We believe that the days ahead hold out hope and that the hope will not disappoint (Is 49:23; Rom 5:5).

North River is ready to begin gradually opening up the auditorium on Sundays (with children's classes for those three years old and younger). This Sunday we will begin with about 25 people in the audience. After this Sunday, our plan for February is to start online sign-ups for up to 50 people to attend in person. We hope to increase that number in March. (click here to read the entire helpful update)

Click here to read the entire helpful update.
January 30th Update
Covid-19 Risks and How to Protect Yourself Georgia counties are at extremely high risk for contracting COVID-19. Please read this article in The New York Times to see the risk level in the county you live in and how to best protect yourself.
https://www.nytimes.com/ interactive/2021/us/covid-riskmap.html
December 31st Update
COVID-19 Task Force Update
The NRCOC COVID taskforce is praying that you and your family are able to stay healthy and safe during the recent increase in COVID activity. Following Thanksgiving, the case counts and burden on hospitals have increased to the highest levels we have seen to date. The hospitals and emergency rooms are in sustained surge capacity, with doctors and healthcare professionals getting sick with COVID themselves, leading to staffing shortages and burnout. We ask that you please send your prayers for these frontline workers as they face a challenge unseen in our lifetime. We are truly thankful for their willingness to love as Jesus loved, putting their lives on the line to save the lives of others!

The Covid Task Force has recommended that we stay virtual in all of our services through end of January. Hospital/ICU admissions are still high and expected to get worse the next few weeks in both Cobb County & in GA (as well as everywhere else). Please click here to read the rest of the update and guidelines for our facilities.
December 10th Update
In-Person Gatherings are Temporarily Suspended
The leadership and corona task force at North River have decided to suspend in-person meetings and gatherings on the church campus until at least mid-January to promote health and wellness in light of the recent surge of Covid-19.

Our hearts and prayers go out to our essential workers and those battling illness. Please reach out to your community leader if you need support in any way. Here is a video created by our own task force leader, Dr. Broyles, and includes recommendations as we enter further into the holidays and the pandemic surge: Click here to view the video .This video was made in mid-November, but contains helpful information, especially about the holidays.

Unfortunately, condititions have continued to get worse here in Georgia, so the numbers have gone up. The chart below more accurately reflects our current situation. Let's not give into the tempation to have "caution fatigue" as we protect one another out of love."
November 20th Update
Be safe during the holidays.
Small gatherings of families and friends increase COVID risk and testing and possibly quarantining for 14 days right before events may be difficult to accomplish in time..Therefore, take the following precautions:


Host outdoor gatherings
Seat guests 6 feet apart
Plan for hosts (masked) to serve food and beverage (avoid family style)
Ensure guests wear masks going through the home to the outside
Allow one person at a time into bathroom and clean touch surfaces
Make sure children wear masks and have plenty of hand santizer around
For outdoor gatherings on cold days: bundle up and consider options such as a fire pit, outdoor heater, and blankets
If you don't have a yard, congregate at the park.
North River COVID-Task Force Update Document
Happy Holidays Everyone! And, please be safe.
October 27th Update
"Night and day we pray most earnestly that we may see you again and supply what is lacking in your faith." 1 Thessalonians 3:10
The North River COVID-19 Task Force met on October 21st to assess how the pandemic is going in Cobb County and in the State of Georgia. Please review the latest guidelines from that meeting.
Auditorium:
The Task Force noted that the number of cases and hospital/ICU admissions in both Cobb County and GA in general have been trending up throughout October. As a result, they are recommending that the target number for those attending church in the Auditorium (in addition to the worship/tech team) be 75 people (the last published number on our website was 100 people). While they believe that the Auditorium can safely handle many more than that, we believe it is wisest to give us time to build good habits of entering, exiting and fellowshipping (using masks and social distancing) with smaller numbers.
Lighthouse and Outddoors on the Campus:
The published maximum numbers for events in the Lighthouse and outdoors on the campus have not changed. At this time, and in accordance with the latest CDC recommendations, we are still asking that masks be worn at all indoor events (whether in the Auditorium, Lighthouse, Gym or FLC).
Gymnasium:
As other facilities in our community are permitting contact basketball, the Task Force is currently comfortable with us opening up our gym to 15 people at a time for contact basketball (provided the participants understand the risks, temperatures are taken, screening questions are asked, and everyone wears masks upon entering and exiting). Waivers will be required and designate masks as optional for the players. Players will all be informed of this up front.
Best practices for masks:
Please note that face shields are NOT a substitute for masks (the face shield protects you, but does not protect others, as virus particles can be expelled around the sides of the shield). If you are wearing a face shield at any event, please also wear a mask.

Also, letting the mask slide down so that your nose is not covered does not provide protection for others as virus particles are also breathed out through your nose. Please make sure that your mask covers both your mouth and nose and fits well.
Outdoor events on our campus:
Outdoor events on our church campus of up to 25 people do not require masks (provided people maintain 6ft of social distancing).
Masks should be worn, however, for larger outdoor events, greater than 25 people (and when entering and exiting the buildings for events).

At all outdoor events, temperature taking is recommended (we will work to make thermometers available – also, temperatures should be taken in the shade, not in the sun).

The three screening questions do not have to be asked of each person, but should be done as a group announcement:
If you or anyone in your household..
Has had any of the following symptoms in the last 14 days: nausea or vomiting, diarrhea, sore throat, cough, chills, body aches for unknown reasons, shortness of breath for unknown reasons, loss of smell, loss of taste, fever at or greater than 100 degrees Fahrenheit;

Or if you or anyone in your household been tested for COVID-19 and found positive (or still waiting for results);

Or if you been in close contact with anyone who has a confirmed COVID-19 diagnosis,
Then it is best that you don't stay.
Food service:
If there will be any kind of food service (or candy, such as during a Trunk or Treat type event), then all food and drink items must be handed out to people by those wearing gloves, hairnets and masks (just as restaurants now practice). No one should touch or grab any food item from a communal source.

Additional COVID-19 Resources:
Need to know about COVID-19 Risks? Click Here
Here are some useful links for staying informed about the COVID-19 virus:
Just remember that our most useful link of all is our direct access to a relationship with the unseen God who created the visible universe:
Heb 10: 19-23 "Therefore, brothers and sisters, since we have confidence to enter the Most Holy Place by the blood of Jesus, by a new and living way opened for us through the curtain, that is, his body, and since we have a great priest over the house of God, let us draw near to God with a sincere heart and with the full assurance that faith brings, having our hearts sprinkled to cleanse us from a guilty conscience and having our bodies washed with pure water. Let us hold unswervingly to the hope we profess, for he who promised is faithful."
NORTH RIVER'S SPIRITUAL RESPONSE
This health care crisis is an ongoing fluid situation, but it is also an opportunity for Jesus' disciples to shine. Together God's church can be the light during this darkness by praying for the world, for our churches in severely contaminated areas, for the most vulnerable, the poor and the elderly. We can also reach out to our families, friends and neighbors with genuine love and concern. There is SO MUCH we can do through calls, FaceTime, acts of service. An outward focus protects our hearts from fear and worry. God can use this powerfully if we simply SHINE!
As Christians, we want, need and depend on God's protection to keep us and our families safe from harm. The scriptures give us comfort knowing that He is active and attentive. Sometimes God's protection comes in the form of peace and strength in the middle of anxiety or danger. And sometimes God's protection comes as an event because he sees something on the horizon that we cannot see. The following verses from the Psalms are assurances and promises to help guide us spiritually as we meet this challenge with faith and prepare to minister to our community as His representatives and ambassadors.
Ps 20:1-2 May the Lord answer you when you are in distress; may the name of the God of Jacob protect you. May he send you help from the sanctuary and grant you support from Zion.
Ps 32:7 You are my hiding place; you will protect me from trouble and surround me with songs of deliverance.
Ps 46:1 God is our refuge and strength, an ever-present help in trouble. Therefore we will not fear, though the earth give way and the mountains fall into the heart of the sea
Ps 57:1 Have mercy on me, my God, have mercy on me, for in you I take refuge. I will take refuge in the shadow of your wings until the disaster has passed.
Psalm 23 and Psalm 91 also will guard hearts and minds in the days ahead.
God is faithful and His North River family will be as well. Much love and respect,
The North River Leadership Team