COVID Task Force Update & Resources (June 2021)
The North River COVID-19 Task Force is thrilled that the levels of COVID have gone below 2% in Cobb County and much of the State. This means out of 100 people tested for COVID less than 2 are positive! The Marietta City and Cobb County Schools have made masking optional for students, teachers and visitors. For patients, families and visitors, the Wellstar Health System has stopped taking temperatures and asking COVID questions in most of their facilities.

With this in mind the COVID Task Force has recommended to "open it up". Because of the low incidence of COVID in our community and noting no members who have tested positive after services for several weeks - we will no longer have online registration, and we will stop temperature checks and health questions at the door.

Because there are some who want to remain masked, we're asking that everyone remain masked when entering and exiting the building. There will continue to be a masked only section and optional separate auditorium exit. Our desire is to continue to honor, respect and accommodate those who prefer to wear masks but to also make changes in keeping with our community partners.

Of course, over the past year, we have all been educated about the signs and symptoms of COVID and ask out of love and respect for your brothers and sisters that if you have any risk of COVID: like recent exposure to someone COVID positive, or you are waiting results of a COVID test or you have signs or symptoms of COVID (fever, cough, chills, sweats, diarrhea, loss of taste or smell, etc) that you choose our virtual-worship option for 10-14 days.

A huge shout out to the dedicated, thoughtful and educated COVID task force for your ongoing commitment, concern and hard-work in helping us to keep our Church family healthy and safe.
Our Children's Ministry classes are open for 5th grade and under.
Please register any children by Friday night.
Registration opens each week on Sunday afternoon. Link is on the website, Facebook, and below.
COVID-19 Symptoms can be confusing.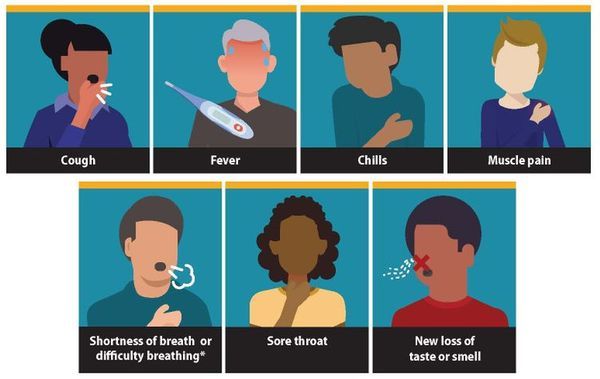 Do I have allergies, a cold, influenza or the corona virus?
Information about how to tell the difference: https://www.mayoclinic.org/diseases-conditions/coronavirus/in-depth/covid-19-cold-flu-and-allergies-differences/art-20503981
Prevention
Prevent the spread of COVID-19 by continuing with hand washing, social distancing, and masks over the next several months since there is a lag period after vaccination.
Transmission to other people may still occur after vaccination despite lack of illness.
Completed the vaccination series will offer you protection, but you can still get the virus and give it to others, therefore still practice masking, hand washing, distancing and avoiding large groups.
Excellent source of information about prevention: https://www.cdc.gov/coronavirus/2019-ncov/communication/toolkits/general-public.html
Herd Immunity
Return to normal activities will require herd immunity where 85% of the population have been either been infected or received the vaccine. This may not occur until late Summer or early Fall 2021. We should all remember to protect our family and friends until then. We should all decide that the COVID epidemic "Should End with Me".
We are so blessed to have a family in Christ!
Despite the challenges of living in the Roman Empire, our brothers and sisters we have an amazing family - Acts 2:42-47.
Even though we cannot meet together as we would like, we can encourage one another…daily… Hebrews 3:12-13.
There are over 100 one-another verses in the scriptures that we can continue to fulfill despite the pandemic.
Wonderful infographic about one-another verses: https://overviewbible.com/one-another-infographic/
Emotional support should be provided to family and friends as COVID infections surge over the next 1-2 months and we all feel the burden of the stress and isolation it causes. Please stay connected to family and friends especially Singles during this difficult period.
COVID-19 Information & Resources
Click on the images below to view resources and information.