Community Organizations to Support and Serve
Serving Opps at a Glance (See below for more details and to sign up):
Youth Villages "Birthday Heroes" Celebration (

Saturday, January 21st)

Historic Jonesville Freed Slaves Cemetery Restoration (January 28th)
MLK Day: Sunday Suppers (Ongoing opp. starting in January)
HOPE "Depot Days" (the Lighthouse, every Thursday, 10-12)
Gratitude Packs for Veterans - North River Care Ministry
Books for Africa (weekly opportunities)
Care Packs - North River Care Ministry
American Red Cross Blood Drive
Read with HOPE! Care Ministry
Adventure Centers Mission 1:27
Baseball Buddies (Spring)
MUST Ministries
Sheltering Arms
Updated January 31, 2022
HAPPENING NOW!

Dr. King's Legacy | Sunday Suppers
SUNDAY SUPPERS
We're all invited to host a Sunday Supper during the month of January to share a meal and meaningful dialogue with a neighbor.
A guide for families/family groups on hosting a Sunday Supper: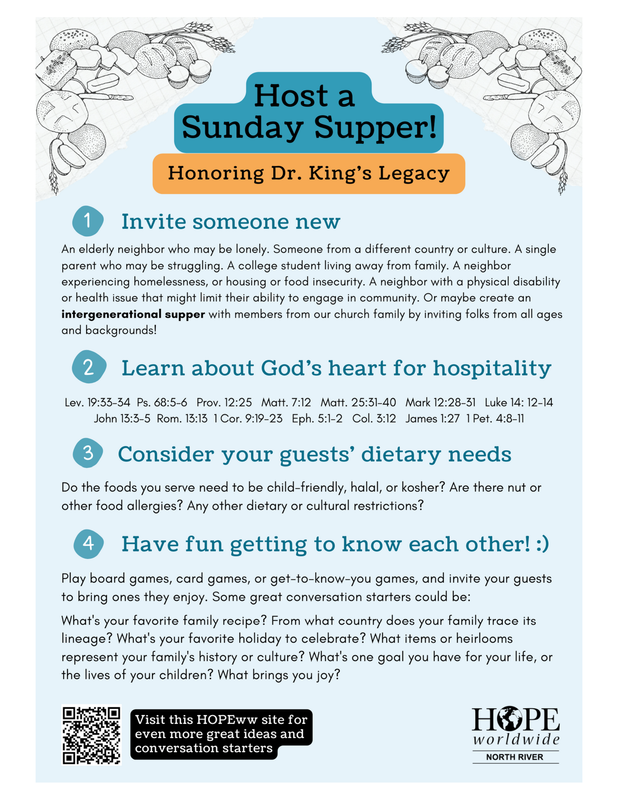 HOPEww Sunday Suppers full presentation (great for those hosting): https://tinyurl.com/6apc3vy4
Ben Barnett's Instagram post on Sunday Suppers: https://tinyurl.com/3nzufzf2
View this post on Instagram

INNER HARBOUR CAMPUS | Youth Villages
Saturday, February 18th - 1:00-3:00 pm (Douglasville, GA) - Volunteers 21+

Join us for a day of celebration with children residing at Youth Villages, a highly respected, comprehensive treatment program for 120+ children and youth with emotional and behavioral challenges due to childhood trauma. Celebrating birthdays together at these events is the highlight of the month for every child!
* After the party this month, there will be an opportunity to attend a 1-hr orientation for our future volunteers. This will include a tour of the campus and facilities and a conversation with the Youth Villages Coordinator.

Monthly encouragement cards & birthday party supplies are also desired!

If you're interested in encouraging this special group of children, please contact Debbie Swain, 757-812-0256; swain.debbie@yahoo.com
NEW OPPORTUNITIES - COME HELP THEM GROW!

HOPE "Depot Days" | NORTH RIVER

We are excited to honor and encourage veterans who visit the new VA Clinic on Cobb Parkway in Marietta! Gratitude Packs will include a healthy beverage and snack and a handwritten "Thank You" card expressing our gratitude for the service and sacrifices of these brave men and women.
Gratitude Packs provide a great opportunity for family and community groups to serve together. Talk to your family group leaders about planning a packing party!
Pick up the Gratitude Pack logos and the red, white, and blue paper bags from the HOPE Depot (family group members contribute the items that go inside)

Drop off completed packs at the HOPE Depot

NR members Tracy Barlow (LCSW) and Joe Mulligan (LCSW) will distribute Gratitude Packs to veterans who visit local VA Clinics
Individuals of all ages can write cards of encouragement. Click the link above for excellent samples of Care Cards and to read our Gratitude Pack bookmark as a reminder of why it is deeply important to honor our veterans.
Summer "mobile library" book lending program for children within our local community who lack access to books. We deliver books to apartment complexes and encourage the kids to read. Help organize and label books within the HOPE Depot so that we can lend and gift books locally and internationally. Many weekly opportunities are available!

Contact: Noelle Broyles, 919-699-8745; nfbroyles@yahoo.com

ONGOING OPPORTUNITIES:

Let's serve together with our family & community groups to create and distribute Care Packs to every NR family/individual to keep in their cars or backpacks!

Then when we meet individuals who are experiencing homelessness, we can encourage them with a genuine hello, a smile, and a Care Pack! Our church family will restock our Care Pack during the first week of every month.
Contact: Noelle Broyles, 919-699-8745; nfbroyles@yahoo.com
Books For Africa collects, organizes, and regularly ships hundreds of thousands of high-quality books to countries throughout the continent of Africa every year!

Volunteers are needed to help sort and pack books for 2-hour time shifts:
Monday - Friday: 9-11 am or 1-3 pm
Saturdays: 9-11 am or 12-2pm
Saturdays are for experienced volunteers only, though new volunteers may also accompany experienced volunteers.

Volunteers must pre-register via the website and participate in a brief orientation at the beginning of the shift. (No walk-in volunteers). Groups of 16 can serve together. The minimum age is 14 years.

Contacts: Jen Hale, Coordinator, jen@booksforafrica.org
NR Contact: Noelle Broyles, 919-699-8745; nfbroyles@yahoo.com
A highly respected, comprehensive residential treatment program for 120+ children and youth with serious emotional and behavioral challenges due to childhood trauma.

Volunteer Opps: For volunteers 21+, come and serve at monthly "Birthday Heroes" Parties for children, usually on the 3rd Saturday of every month from 1-3 pm! It is the highlight of the month for every child!

Monthly Encouragement Cards & Birthday Party Supplies desired.
NR Contact: Debbie Swain, 757-812-0256; swain.debbie@yahoo.com
West Cobb Family Group celebrates the Birthday Heroes every month!
BASEBALL BUDDIES | Coming Spring 2023!
This program pairs volunteers 1:1 with children with disabilities as they play a game of baseball, while the players' parents get to sit in the stands and enjoy watching their children play. All North River volunteers together will be paired with one team and join them for their games. Games will take place between the hours of 9:30-12:30 (times will vary) and last approximately one hour. This is a wonderful serving opportunity that is fun for everyone!
If you're interested in volunteering in Spring 2023, please contact Noelle Broyles, 919-699-8745; nfbroyles@yahoo.com.

The COVID pandemic has created severe blood shortages, and this campaign enables us to easily meet a huge need. Simply fill out the short application, pick a day, time and a convenient site near you. We encourage everyone to invite family members, friends, co-workers, neighbors, and folks from your community to become a "blood buddy" to donate with you as you give blood and the gift of life.
Bible-based after-school program for elementary school children located within five Walton apartment complexes throughout the Marietta area.

Volunteer Opps: Fun devotionals, games, and activities to be prepared and shared with the children every month. Available at two Marietta locations (Walton Ridge Center on Cobb Parkway and Ridenour Center on Barrett Parkway). Volunteer time is about 1.5 hours, usually starting at about 3 pm. Times can vary.

There are also limited "in-person" volunteer opportunities for reading, math help, sharing skills like sports, music, arts and crafts. Monthly Care cards and specific donations are often needed!

NR Contact: Noelle Broyles, 919-699-8745; nfbroyles@yahoo.com
Quarterly opportunities for North River members to organize and distribute food boxes for at-risk school-age children and families within Marietta. Specific supplemental donations are regularly needed.

Contact: Jasmine Jackson; 404-849-5570; jazzjaz14@gmail.com
Contact: Noelle Broyles; 919-699-8745; nfbroyles@yahoo.com
Respected Early Childhood Development centers (13) throughout the Atlanta area providing education/support for at-risk children.

Volunteer Opps: Reading with children, sharing life skills, mentoring, and Center clean-ups have been serving opps in the past.

NR Contact: Noelle Broyles, 919-699-8745; nfbroyles@yahoo.com

ADDITIONAL COMMUNITY PARTNERS
YMCA Food Relief
Shady Grove Baptist Church Food Relief for the Homeless